One of the Scheme Advisory Board's key objectives is to ensure the cost-effectiveness and efficiency of the FPS, and to provide advice to scheme managers and local pension boards in relation to effective and efficient administration and management. As there is currently no basis for the comparison of service and cost within the administration of the schemes, in order to establish a benchmark, the Board undertook a procurement exercise for an organisation to undertake a benchmarking review.
We were delighted to launch the project at the AGM in September and announce that Aon were the successful bidder.
Representatives from Aon attended the meeting of the technical community on day 1 of the conference to engage with FRA and administrator stakeholders on the scope and range of the survey questions, which will be used to gather quantitative data from employers, administrators and members. Thanks to all those who participated in this meeting; the notes are available here.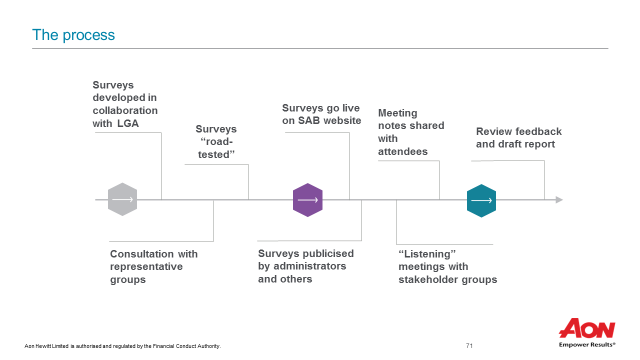 Day 2 saw the official launch of the exercise where Aon expressed their delight in being involved in the project as well as outlining the approach they will be taking to carry out the review. The audience of around 100 delegates then had the opportunity to ask questions of the Aon team.
Since then, the Bluelight team has been working closely with Aon to finalise the survey questions for employers, administrators, and members. Following an extended period of consultation with stakeholders including the Administration and Benchmarking committee, the Fire Finance Network and the Technical Community, we are pleased to advise that the administrator and employer Excel surveys are available for completion from 23 November 2018.  While this is slightly beyond our initial timescales, we considered that it was important to allow a longer period for full consultation. All three SAB committees have also had opportunity to comment.
The administrator and employer surveys have been sent by email to our relevant FPS contacts; copies can also be accessed below. The surveys have been issued in Excel format to allow them to be saved during and after completion if input from various departments is needed. Full instructions for completing the survey can be found on the first tab of the spreadsheet. We require one completed employer survey from each employer (FRA) and one survey in respect of each FRA administered from administrators. Completed surveys should be returned to This email address is being protected from spambots. You need JavaScript enabled to view it. by 31 January 2019.
Administrator survey (xlsx, 83kb)
Employer survey (xlsx, 81kb)
You can read an update from Aon on the progress of the project to date here.
The web-based member survey is now also available from 21 January 2019 and can be completed at the following link http://bit.ly/FPS-Memb-Survey.We are interested to hear from all member stakeholders, whether they be active, deferred, pensioners or dependents, and we are relying on your support to advertise the survey as widely as possible. We have produced the attached poster to promote the survey at stations or any other Fire and Rescue Service premises. The survey will close on 28 February. Thank you for your continued support.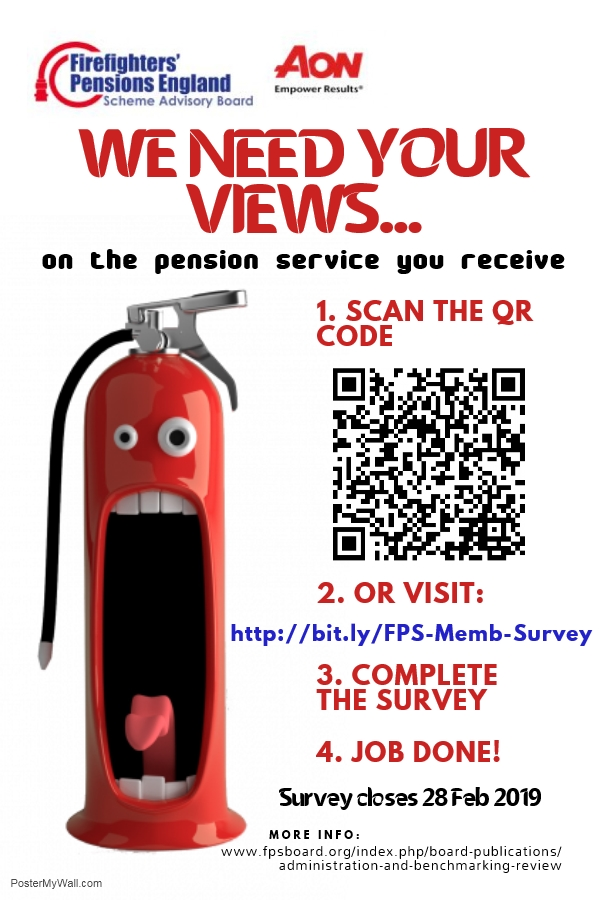 If you have any queries regarding completion of the surveys, please contact This email address is being protected from spambots. You need JavaScript enabled to view it..
All surveys are now closed. We are delighted to report a 100% response rate to the employer and administrator surveys, and an overwhelming response to the member survey from both active and pensioner members. Aon will now commence analysis of the data in order to present a draft report to the SAB in June 2019. Many thanks to all who participated by either completing a survey or promoting the member survey across FRAs.